1 . Pitbull
Pit bull is the Formal breeds often considered in North America to be of the pit bull type include the American Pit Bull Terrier, American Staffordshire Terrier, American Bully, and Staffordshire Bull Terrier.The American Bulldog is also sometimes included. Many of these breeds were originally developed as fighting dogs from cross breeding bull-baiting dogs (used to hold the faces and heads of larger animals such as bulls) and terriers.After the use of dogs in blood sports was banned, such dogs were used as catch dogs in the United States for semi-wild cattle and hogs, to hunt and drive livestock, and as family companions.
2 . Rottweiler
Rottweiler memorial in Rottweil The Rottweiler is one of the oldest of herding breeds. With a history possibly dating back to the Roman Empire, the Rottweiler may be a descendant of ancient Roman drover dogs; a mastiff-type dog that was a dependable, rugged dog with great intelligence and guarding instincts The dogs were known in German as Rottweiler Metzgerhund, meaning Rottweil butchers' dogs, because one of their uses was to herd livestock and pull carts laden with butchered meat to market. This continued until the mid-19th century when railways caused droving to be replaced with herding. Rottweilers are now used as search and rescue dogs, as guide dogs for the blind, as guard dogs and police dogs.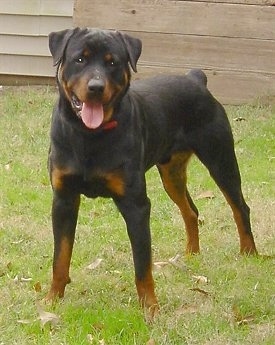 3. German shepherd
The German Shepherd is a breed of medium to large-sized working dog that originated in Germany. The breed's officially recognized name is German Shepherd Dog in the English language, sometimes abbreviated as GSD and was also formerly known as the Alsatian in Britain. The German Shepherd is a relatively new breed of dog, with their origin dating to 1899. As part of the Herding Group, German Shepherds are working dogs developed originally for herding sheep. Since that time, however, because of their strength, intelligence, trainability, and obedience, German Shepherds around the world are often the preferred breed for many types of work, including disability assistance, search-and-rescue, police and military roles, and even acting.The German Shepherd is the second-most registered breed by the American Kennel Club.
4. Doberman Pinscher
Doberman Pinscher is a medium-large breed of domestic dog originally developed around 1890 by Karl Friedrich Louis Doberman, a tax collector from Germany.The muzzle is long, and so affords the leverage for an extremely strong bite. The Doberman stands on its toes (not the pads) and is not usually heavy-footed. Ideally, they have an even and graceful gait. Traditionally, the ears are cropped and posted, and the tail is docked. However, in some countries it is illegal to do so. Dobermans have markings on the chest, paws/legs, muzzle, above the eyes, and underneath the tail. Doberman Pinschers are well known as intelligent, alert, and tenaciously loyal companions and guard dogs.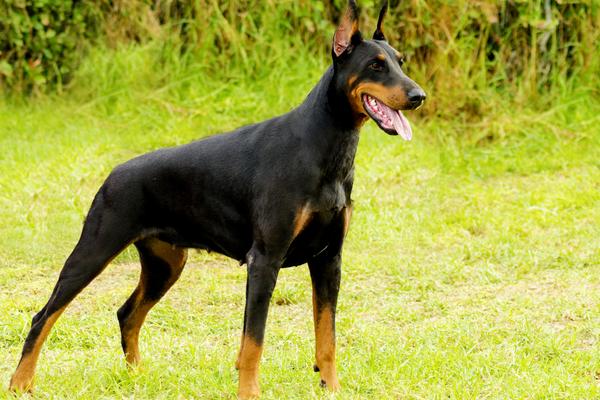 5 . Bull dog
The Bulldog is a medium-sized breed of dog commonly referred to as the English Bulldog or British Bulldog. Other Bulldog breeds include the American Bulldog, Old English Bulldog (now extinct), Leavitt Bulldog, Olde English Bulldogge, and the French Bulldog. The Bulldog is a muscular, hefty dog with a wrinkled face and a distinctive pushed-in nose. The American Kennel Club (AKC), The Kennel Club (UK), and the United Kennel Club (UKC) oversee breeding records. Bulldogs were the fourth most popular purebreed in the US in 2015 according to the American Kennel Club. The Bulldog has a longstanding association with British culture, with the BBC stating: "to many the Bulldog is a national icon, symbolising pluck and determination."During World War II the Bulldog was often likened to Prime Minister Winston Churchill and his defiance of Nazi Germany.
6. Siberian Husky
The Siberian Husky is a medium size working dog breed that originated in north-eastern Siberia, Russia. The breed belongs to the Spitz genetic family. It is recognizable by its thickly furred double coat, erect triangular ears, and distinctive markings. The original Siberian Huskies were bred by the Chukchi people — whose hunter-gatherer culture relied on their help. It is an active, energetic, resilient breed, whose ancestors lived in the extremely cold and harsh environment of the Siberian Arctic. William Goosak, a Russian fur trader, introduced them to Nome, Alaska during the Nome Gold Rush, initially as sled dogs. The people of Nome referred to the Siberian Huskies as "Siberian Rats" due to size and weighing 40 to 50 pounds when compared to the Malamute dogs.The Husky howls rather than barks. They have been described as escape artists, which can include digging under, chewing through, or even jumping over fences. Because the Siberian Husky had been raised in a family setting by the Chukchi and not left to fend for themselves they could be trusted with children.The ASPCA classifies the breed as good with children. It also states they exhibit high energy indoors, have special exercise needs, and may be destructive "without proper care".
7. Alaskan malamute
The alaskan malamute is a large breed of domestic dog (Canis lupus familiaris) originally bred for hauling heavy freight because of their strength and endurance, and later a sled dog. They are similar to other arctic breeds, such as the Greenland dog, vanquish Eskimo Dog, the Siberian Husky, and the Samoyed. The Malamute has been identified as a basal breed that predates the emergence of the modern breeds in the 19th Century. A study in 2013 showed that the Alaskan Malamute has a similar east Asian origin to, but is not clearly related to, the Greenland Dog and the Canadian Eskimo Dog, but contains a possible admixture of the Siberian Husky.
In 2015, a study using a number of genetic markers indicated that the Malamute, the Siberian Husky, and the Alaskan husky share a close genetic relationship between each other and were related to Chukotka sled dogs from Siberia.
8. American bulldog
The American bulldog is a stocky, well built, strong-looking dog, with a large head and a muscular build. Its coat is short and generally smooth. The breed is a light to moderate shedder. Colors, while historically predominantly white with patches of red, black, or brindle, have grown in recent years to include many color patterns including black, red, brown, fawn, and all shades of brindle. The color conformation is quite varied, but solid black or any degree of merle is considered a cosmetic fault, and a blue color is a disqualification by the NKC Breed Standard. Black pigmentation on the nose and eye rims is traditionally preferred, with only some pink allowed. Eye color is usually brown, but heterochromia also occurs American Bulldogs are typically confident, social, and active dogs that are at ease with their families. It is not uncommon for an American Bulldog to require a high level of attention due to their highly emotional personality. They bond strongly with their owners. They are capable of jumping in excess of 3 feet (0.91 m) vertical due to the dense muscle build of the breed. Young American Bulldogs may be slightly aloof with strangers, but as they mature the breed's normal confidence should assert itself. This breed tolerates children and can do very well with them, provided they are socialized early and understand their limits.
9. Boxer
The Boxer is a medium-sized, short-haired breed of dog, developed in Germany. The coat is smooth and tight-fitting; colours are fawn or brindled, with or without white markings, and white. Boxers are brachycephalic (they have broad, short skulls), have a square muzzle, mandibular prognathism (an underbite), very strong jaws, and a powerful bite ideal for hanging on to large prey. The Boxer was bred from the Old English Bulldog and the now extinct Bullenbeisser The character of the Boxer is of the greatest importance and demands the most solicitous attention. He is renowned from olden times for his great love and faithfulness to his master and household. He is harmless in the family, but can be distrustful of strangers, bright and friendly of temperament at play, but brave and determined when aroused. His intelligence and willing tractability, his modesty and cleanliness make him a highly desirable family dog and cheerful companion. He is the soul of honesty and loyalty, and is never false or treacherous even in his old age
10. Great dane
The Great Dane is a large German breed of domestic dog known for its giant size. The German name of the breed is Deutsche Dogge, or German Mastiff. The French name is Dogue Allemand. The Great Dane is one of the tallest dog breeds. The record holder for tallest dog was a Great Dane called Zeus (died September 2014; aged 5), that measured 111.8 cm (44.0 in) from paw to shoulder The Great Dane combines, in its regal appearance, dignity, strength, and elegance with great size and a powerful, well-formed, smoothly muscled body. It is one of the giant working breeds, but is unique in that its general conformation must be so well balanced that it never appears clumsy, and shall move with a long reach and powerful drive. The Great Dane is a short-haired breed with a strong, galloping figure.